Bringing soft curves to your concrete pool
Brisbane's Premier
free-form concrete pool builder
Discover the unique blend of style and function with Environ Pools' range of free-form pools. As an award-winning Brisbane pool builder, we specialize in crafting pools with smooth, unconventional curves that seamlessly integrate with your home's specific landscape. Our commitment is to offer you a tailored solution that meets both your aesthetic and functional needs, turning your backyard into a personalized retreat.
Drawing from a rich history of quality and innovation, we are your trusted partners in bringing a dynamic and modern approach to pool design, offering practical luxury that stands the test of time. Explore the Environ Pools difference, where your vision meets our expertise.
Take a look at our

Free-Form Pool Projects
Take a Closer look at our
Latest Projects
What a transformation to this backyard with this outdoor oasis with this pool design featuring a stunning fire pit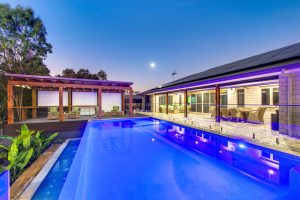 This masterpiece of an Infinity Edge Pool cascades seamlessly over the edge with a shimmering of refection, while allowing the roar of the river sound to set the ambience with a relaxing and calming effect.
This project was truly a transformation, taking a blank canvas backyard and completely renovating it to create a resort-style outdoor living space.