Don't let a steep slope stop your pool dreams
Brisbane's Premier
steep slope pool builder
Navigating the challenges of steep sites requires unparalleled expertise, and that's where Environ Pools shines. As Brisbane's trusted pool builders for decades, we've honed our skills to master the art of constructing pools on inclined landscapes. Such sites, while challenging, open avenues for unique, multi-level designs and captivating water features.
Brisbane homeowners with steep properties have consistently turned to Environ Pools, knowing our adeptness in harnessing the natural gradient to create pools that are not only functional but visually stunning. Explore our portfolio and witness the engineering prowess and design innovation that make Environ Pools the go-to choice for steep site pool projects.
Take a look at our

Pool Projects on Steep Slopes
Take a Closer look at our
Latest Projects
What a transformation to this backyard with this outdoor oasis with this pool design featuring a stunning fire pit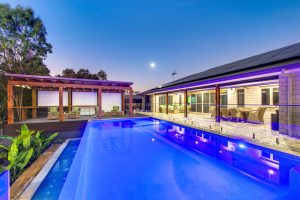 This masterpiece of an Infinity Edge Pool cascades seamlessly over the edge with a shimmering of refection, while allowing the roar of the river sound to set the ambience with a relaxing and calming effect.
This project was truly a transformation, taking a blank canvas backyard and completely renovating it to create a resort-style outdoor living space.