Let us create your luxury pool experience
Brisbane's Premier
luxury pool builder
Step into a world of opulence with Environ Pools' signature luxury pools. Established as Brisbane's premium pool builders since the late 1980s, we've been sculpting spaces of lavishness that resonate with the refined tastes of our discerning clientele.
The pool luxury that we create is more than just water contained—it's a statement of style, a testament to design excellence, and a sanctuary of indulgence. Brisbane homeowners who seek unparalleled elegance and a touch of grandeur consistently turn to Environ Pools, trusting our legacy of creating aquatic masterpieces. Browse our showcase and immerse yourself in the epitome of luxury that only Environ Pools can bring to life.
Take a look at our

Luxury Pool Projects
Take a Closer look at our
Latest Projects
What a transformation to this backyard with this outdoor oasis with this pool design featuring a stunning fire pit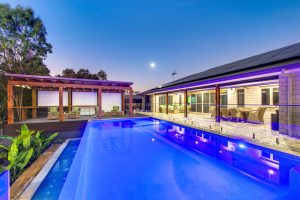 This masterpiece of an Infinity Edge Pool cascades seamlessly over the edge with a shimmering of refection, while allowing the roar of the river sound to set the ambience with a relaxing and calming effect.
This project was truly a transformation, taking a blank canvas backyard and completely renovating it to create a resort-style outdoor living space.