Bring the luxury & relaxation of a spa to your backyard
Brisbane's Premier
spa pool builder
Unwind in the luxurious embrace of a spa pool crafted by Environ Pools. Recognised as creating swimming pools Brisbane loves by multiple awards, we've been curating spa pools that epitomise relaxation and sophistication for years. Whether it's a starlit soak or a weekend rejuvenation, our spa pools are designed to melt away the stresses of the day, offering a personal retreat right in the comfort of your backyard.
Every Brisbane homeowner deserves a touch of indulgence, and with Environ Pools, you're not just getting a spa pool, but an experience of tranquillity and luxury. Explore our range and immerse yourself in the bespoke spa pool experience that only Environ Pools can deliver.
Take a look at our

Spa Projects
Take a Closer look at our
Latest Projects
What a transformation to this backyard with this outdoor oasis with this pool design featuring a stunning fire pit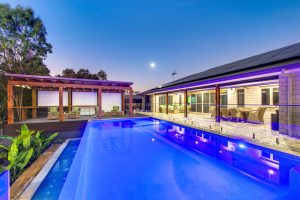 This masterpiece of an Infinity Edge Pool cascades seamlessly over the edge with a shimmering of refection, while allowing the roar of the river sound to set the ambience with a relaxing and calming effect.
This project was truly a transformation, taking a blank canvas backyard and completely renovating it to create a resort-style outdoor living space.